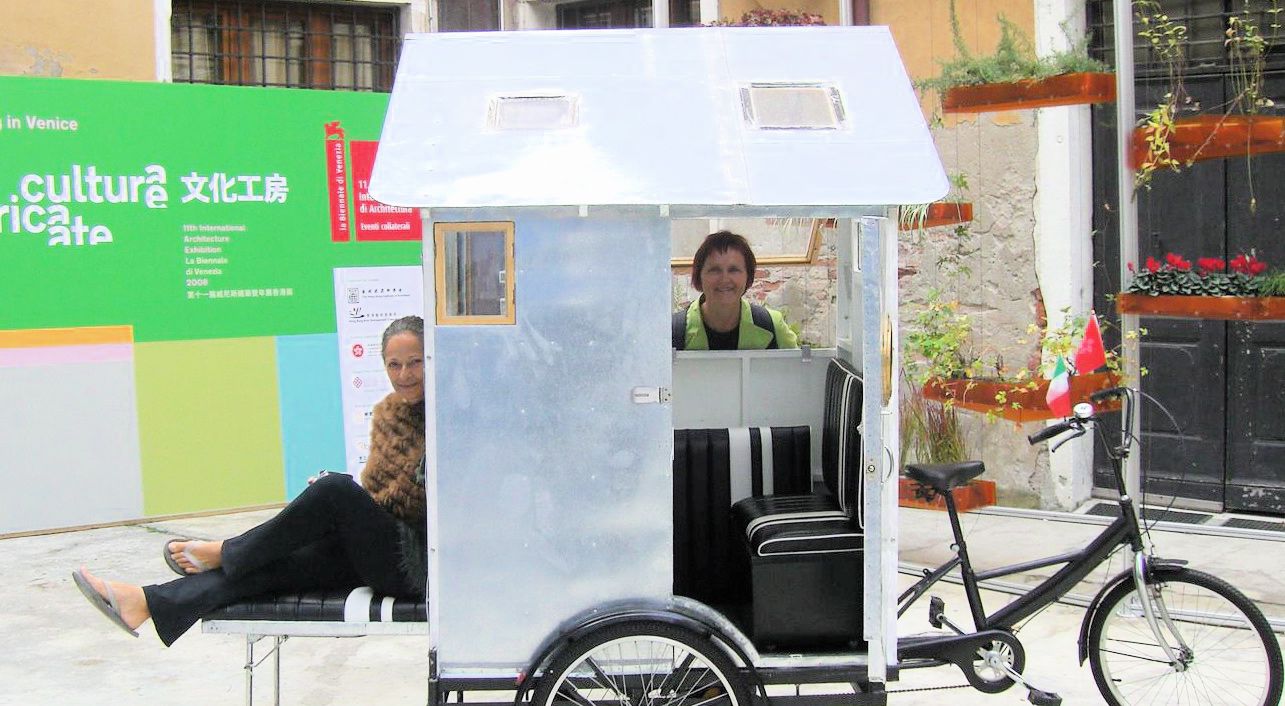 Biennale de Venise 2008 /"Wandering Home", création de Kacey Wong rebaptisée "maison du traducteur" par les trois
comparses du voyage: Susana Koncut (le visage à la fenêtre), Eveline van Hemert (la photographe) et l'autrice du blog.
Le contenu du texte suivant a été présenté à la Conférence "Multilingualism and Intercultural Dialogue in Globalization" organisée à New Delhi les 11 et 12 décembre 2008 à l'initiative de la Délégation de la Communauté Européenne. Il a été écrit en anglais et le temps m'a manqué jusqu'ici pour le traduire... Ce sont les cordonniers les plus mal chaussés !
A better linking of cultures through multilingualism and translations is an indisputable need at the time of globalisation. I am sure the planners among us will give a better documented and more practical view than I ever could of what can be done in this prospect, but as I was invited here as a translator, I would like to present you with a few thoughts on the qualitative aspect of things, that occurred to me as a multilingual professionally active agent of society.
Before that, let me first give you basic information about the situation of the Indian languages in France. Their teaching is dispensed by the INALCO (National Institute of Oriental Languages and Civilisations, a department of the University of Paris), and they include Bengali, Hindi, Sanskrit, Tamil, Telungu and Urdu. Sanskrit is also taught in two other universities in France, Paris-Censier and Aix-en-Provence. These studies lead to the obtention of degrees more or less equivalent to BAs and Masters. The number of translated books from Indian languages mirrors their situation as taught or non-taught subjects. Malayalam, though, has a special place among them : not taught yet as a language in France, it has been thoroughly studied in Kerala by at least two scholars who took to translation and do their best to bridge the gap : I am one of them. But we dearly miss translators from Kannada, Oriya and all the other constitutional languages of India, not to mention the numerous existing other languages.
Translating poetry from these languages has sometimes been attempted by a duo of native language + French speakers, not always unsuccessfully, and this trend should probably be probed deeper to compensate the lack of French translators. We translators – together with the Ministry of Culture's Book Department (Centre National du Livre) who refuses to subsidize them, while it helps publishers to meet the translation's expense when it finds it good – strongly discourage what we call « relay-translations », i.e. translating into French an English translation of a text. I shall not develop at length this important point here, let me just say that a translation is not an interchangeable garment. Neither can someone with no direct reference to the original text know to what extent his language can match it while tackling the intermediate language.
Let us take an example : in Malayalam, there is a popular expression : ñan ninne chapatti akkum, which literally means « I am going to make you into a chappati » (i.e. to make you as flat as a chappati). Let us assume that the very equivalent to this idiom does not exist in English (and excuse me if it does !). What will the English translator do ? He/she will take the nearest possible colourful expression to translate it, something like « I'll smash you into a pulp », let us say. The French translator, in turn, will try to translate this English expression, knowing not that to the Malayalam idiom corresponds a very equivalent French one : « Je vais t'aplatir comme une galette. »
But as the proverbial exception proves the rule, I must mention A.K. Ramanujan's English translation of U.R. Ananthamurthy's « Samskara ». Thanks to the quality of the English text by this immense poet and scholar, the translation from the English offers the French readership a fine version of this story of great import.
The process of translation, whatever the text, is a two-directional one, that of the translator as a receiver and as a transmitter : on one side, you serve the author, and on the other side, the reader. The author's side has been the subject of many a professional and very necessary debate. The need to retranslate in today's language some deemed « outdated translations » has also been addressed. But there are still serious loopholes in appreciating the reader's side, practically speaking. We probably can imply him or her better in the experience, and this is our duty.
The question is : as a reader of books translated from a language I do not know, what do I need ? Certainly not any compromise with the meaning, and certainly as few as possible with the form, but what about clues ? As a translator, I don't feel I have completed my job as long as I have not provided such clues – as asides, not as visually distracting footnotes – as I am able to. As a reader, I deeply appreciate them, and at least half of the readers derive a greater pleasure from a book, of fiction or non-fiction, that helps them understand the otherness in and around the text.
Both out of respect for the author and for the sensuous feel of the text, sometimes also because they alone can coin what they underline of the other's culture, we keep some of the original words untranslated. But what of my understanding as a reader ? Many a publisher in France or India decides to cut short : words in the original language remain unexplained, glossaries are dispensed with, afterwords come rarely. Why should not an object of entertainment be at the same time an object of learning ? It also happens to Indian languages translated into English, reducing the readership to the English-speaking Indians, while they could reach out to the world !
My stand is that every necessary tool should be given to the reader, (only to be used if he needs to, of course), to make it as easy as possible for him/her : he has come to the book, we should treat him/her as a guest and give our best. I know readers in France who turned away from reading a great book because a publisher in France did not deem useful to give them all the necessary tools, and I also know of a great Indian book translated into English which a French publisher decided not to publish in French because she could simply not read it in English (a language she knows), so loaded it was with unexplained words in the original language. But I do not know anyone who decided not to read a novel because a glossary or an afterword was attached at the end. Some just skip it, that's all.
This is an example of what could be done in order to reach out more efficiently, and a practical question for professionals to address.
The next point, of a much broader scope, takes us outside the reading culture of the happy few. It implies a renewed and wider definition of « language » and « translation » : be it from a different language or not, as a receiver and transmitter of information, we all are translators. And a few necessary measures could help us do that in a better way.
Reading is a complex process of meeting the other, which stems ideally from the curiosity of an undivided attention. The undividedness of attention implies leaving enough of one's culture, of oneself and one's personal idiosyncrasies to cross to the other's world, the personal voice of the reader making place for silence and space inside to receive what the other says and means, before jumping in with his/her own voice. This essential sequentiality, I feel, is too often ignored in today's reading. It may sound outlandish, but the future of a minimal understanding between living beings whose voices are brought near by the information technologies may well hang on the respect of this sequentiality.
Every day brings its heavier lot of news, points of views, information through all kinds of media, and the more there are, the bigger the necessity to cultivate this attention. Now more than ever, factors (haste, stubbornness and defiance, to name a few) combine to incite us to skip this sequentiality and give way to our own reactions too soon, almost before, it seems, our eyes have « read ». But the interpretation process, when it comes too soon, mixes up the data and reinforces our projected bias. To interpret too soon is to miss everything, both the acute perception of the other's word and the next stage (when sequentiality is followed), i.e. one's own consciously thought about differential posture. In other words, one's own true critical stand.
I am afraid that however essential it is to travel from one language to the other through translations and to promote cultural and artistic bridges in order to link people together, it may be far from sufficient, partly because it relies upon the assumption that reception is of a quality which in fact is far from permanent and always in danger of failing us, as translators know. And that, I feel, should be addressed through teaching subjects with a special stress on meaning, as soon in life as possible, to help our children develop their attention to the voice of the other.
The odds pitted today against this precious quality of attention are many. To name only a few from the media, a news bulletin on TV now treats the viewer with at least two images and two to three sublines simultaneously, leading to a disturbing and apparently willed – so aggressive it looks – division of his/her necessary attention. The ads on the internet flash their way into your watching them while reading a webpage, unless you use one of those precious moveable (and still imaginary) pads which adhere to your screen wherever you move them.
Among the inner obstacles that crop up to deny the other the necessary space for his voice (words) to be heard (read) are cultural/moral bias cultivated as limits. And these, far from disappearing in what we could expect from a modern or post-modern world, are getting stronger by the day. This is why I think that in the world we wish to inhabitate, a real stress should be placed, early in life, on learning how to read otherness. Be it the otherness of an opponent or that of a foreigner, a preparedness to leave enough of oneself behind for a moment is necessary to reach out.
Once read (heard) in this fashion and critically assimilated, the other's word is thoughtfully transmitted by the reader, and this quality of transmission, all by itself, creates a breach in the personal/cultural/moral bias, an opening. At this stage of transmission of the other's word, all of us are translators. But are we translating in the spirit of the meaning, in the ethics of translation described above? The answer, all too often, is no. And still, the importance of an accurate transmission of all messages is growing by the day in our borderless world of information.
There is actually so much to translate in this world that doing it in the right spirit could be one of the main keys to keep at bay the denial of « othernesses » which is imposed or incalculated through the commercial spirit of globalisation. Something can be done in this prospect. To make spirited everyday "translation" one of our children's tool through teaching could help them nurture the open-mindedness with which they come to life. A less gregarious, less impoverished and more peaceful world is at stake.


Dominique Vitalyos
Literary translator (of Indian texts)
from Malayalam and English into French